Human Resources Information Systems (HRIS) have become indispensable tools for managing employee data, automating HR processes, and improving overall workforce management. However, with a wide range of HRIS options available, it's essential to understand the different types and choose the one that best suits your company's unique needs and requirements. In this article, we'll explore the different types of HRIS and help you identify the best solution for your organization.
Core HRIS functionalities
Core HRIS is the fundamental type that serves as the basis for human resources management. It includes core features such as employee data management, payroll processing, benefits administration, time and attendance tracking, and compliance management. Core HRIS systems centralize employee information, streamline administrative tasks, and ensure accuracy and compliance in HR operations. This type is suitable for companies looking to establish a solid HR foundation and effectively automate core HR processes.
Talent Management Systems (TMS)
Talent Management Systems (TMS) focus on optimizing the entire employee lifecycle, from recruitment and onboarding to performance management and succession planning. TMS modules often include applicant tracking systems (ATS), performance management tools, learning management systems (LMS) and succession planning capabilities. Organizations looking to streamline talent acquisition, foster employee development and improve performance management can benefit from a TMS.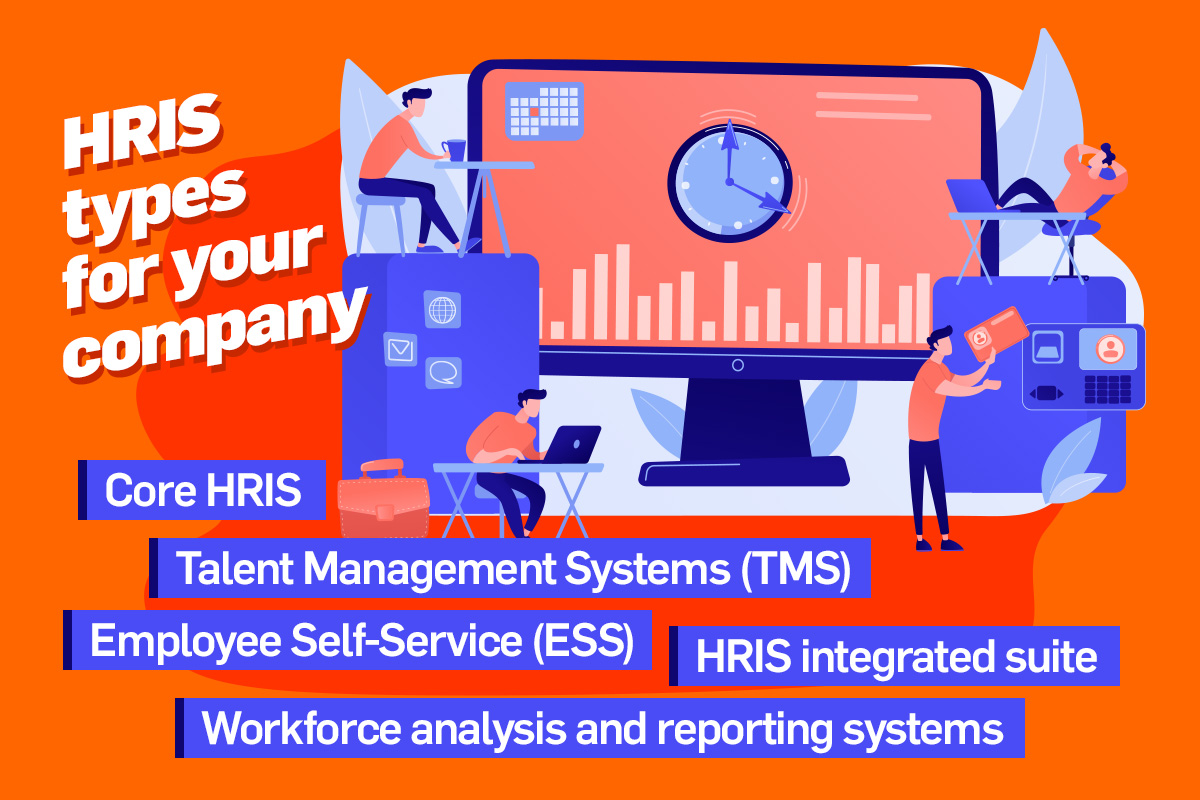 Employee Self-Service Portals
ESS portals allow employees to independently manage and access their personal information, benefits, and HR tasks. These portals provide a self-service platform where employees can update their personal information, view pay statements, request time off, sign up for benefits and access company policies. ESS portals reduce administrative costs, increase employee engagement, and promote self-sufficiency. This type is ideal for companies striving to empower employees and promote a culture of self-service.
Workforce analysis and reporting systems
Workforce analysis and reporting systems harness data-driven information to improve decision-making processes. These systems collect and analyze HR data, generating comprehensive reports, visualizations and predictive analysis. Workforce analytics systems enable HR professionals to make informed decisions related to workforce planning, talent acquisition, performance management and employee engagement. Organizations that prioritize data-driven HR strategies and seek to optimize workforce planning and decision-making can benefit from these systems.
Integrated HRIS suite
Integrated HRIS suites provide complete end-to-end HR management solutions by combining different HR modules into a unified platform. These suites often include core HRIS features, talent management capabilities, self-service portals, analytics tools, and additional modules such as benefits administration and compensation management. Integrated HRIS suites provide seamless data flow, centralized information, and holistic HR management. This type is suitable for organizations that prefer a single, unified system to manage all their HR processes and data.
Choosing the right HRIS for your company
To determine which HRIS is right for your company, here are the factors to consider:
Company size and complexity
Consider the size and complexity of your organization to identify the level of functionality and scalability needed in an HRIS.
Specific HR needs
Assess your company's HR priorities, considering where automation, efficiency and data-driven insights can make the most significant impact.
Integration requirements
Determines whether HRIS needs to integrate with existing systems, such as payroll or accounting software, to ensure seamless data flow.
Budget and resources
Consider the budget and resources available for implementation, training, and ongoing support.
Supplier reputation and support
Research HRIS providers, assess their track record, reputation, and level of customer support.
How can shiftin help you in the digital transformation of your HR processes
We have a team with HR expertise ready for your business needs to be with you in the framework and strategy definition stages of human capital planning and change management.
We provide you with a software tool – shiftin – built around the same conscious needs, to help you digitize and automate your employee planning process to support your business performance.