In an ever-evolving world of technology, companies face increasingly complex challenges in managing human resources and information. The integration of a human resource management system (HRIS) can provide automated and efficient solutions, tailored to the specific requirements of each individual organisation.
In the following we will explore the concept of HRIS integration and provide you with a brief guide to the successful adoption and implementation of this solution, focusing on the ways in which an HRIS can be integrated and the benefits that an automated shift scheduling software product can bring.
Benefits of HRIS integration
HRIS integration can bring numerous benefits to your organisation by connecting and synchronising the different modules and functionalities of the system. Through integrations, HRIS can collaborate with other applications and systems, such as shiftin, to provide the following essential functionality:
Automated payroll
Integrating HRIS with shiftin allows you to automate the payroll process, eliminating the need to manually enter employee data and calculate salaries. This integration ensures accurate and efficient management of payroll information.
Performance reports
HRIS integration with shiftin offers the possibility to generate advanced employee performance reports. This enables managers to assess individual and team performance, identify strengths and areas for development, and make more informed decisions regarding employee development and recognition.
Workforce management
Integrating HRIS with shiftin enables efficient management of work and shift schedules. Managers can quickly and easily create work schedules, ensuring adequate staffing requirements and increased efficiency in human resource management.
Ways to integrate an HRIS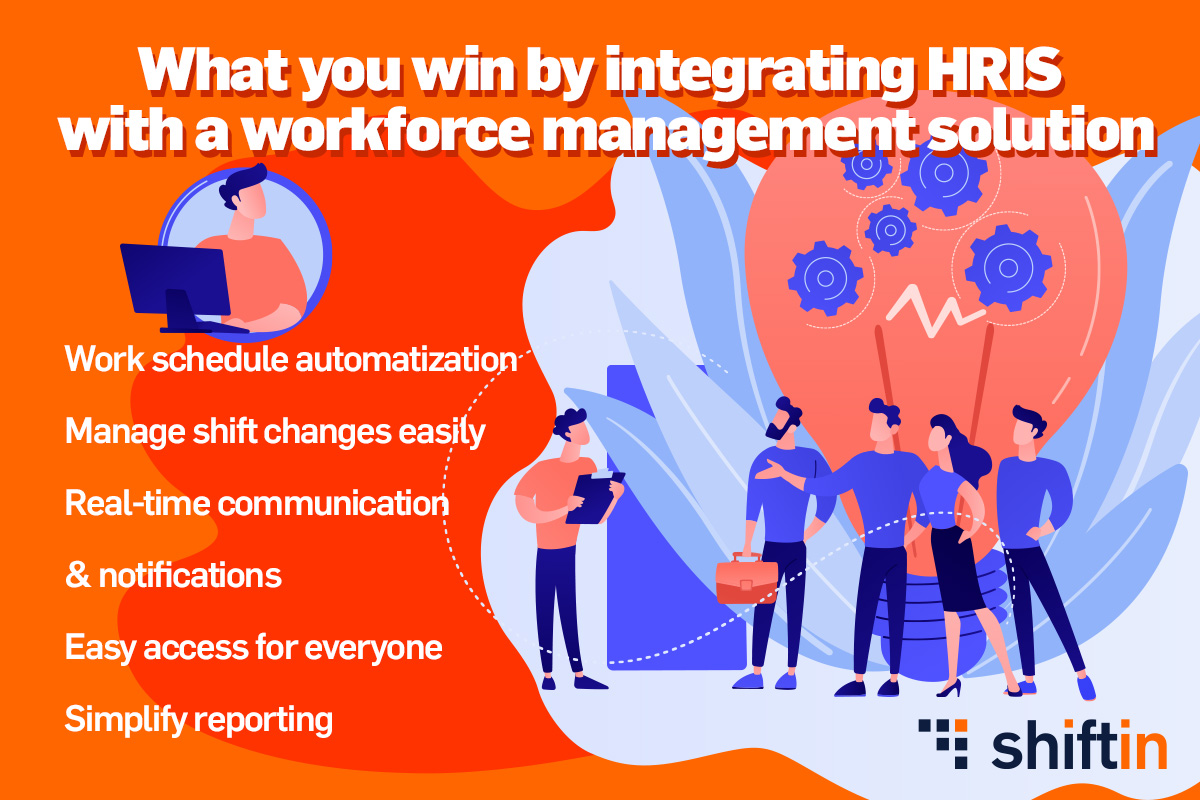 HRIS integration can be achieved in various ways, depending on the specific requirements of each organisation and compatibility with other applications and systems. Here are some of the common ways to integrate an HRIS:
Integration via APIs
Many HRISs provide application programming interfaces (APIs) that facilitate integration with other applications. This allows bi-directional data transfer between HRIS and other systems, such as shiftin, ensuring real-time synchronization of updates and information exchange.
Integration through file import/export
Some HRISs allow importing and exporting files in standard formats such as CSV or Excel. This option allows data to be transferred between HRIS and other applications via files, making it easy to update and share information.
Custom integration
If you have specific requirements or want to integrate HRIS with custom applications, you can opt for a custom integration. This involves working with your HRIS vendor and development team to create a solution tailored to your business strategy.
What are the benefits of shiftin as an HRIS integration solution?
shiftin is an innovative software solution for managing work schedules and shift schedules. Integrating an automated shift scheduling software solution with an HRIS brings the following benefits:
Automation of work schedules
shiftin provides the ability to create and manage work schedules, ensuring adequate coverage of staffing needs and minimizing schedule conflicts quickly and easily.
Efficient shift planning
With shiftin, managers can ensure a balanced distribution of shifts, considering employee availability and scheduling rules. This leads to efficient workforce management and cost savings.
Automatic communication and notifications
shiftin enables quick and easy communication between employees and managers through automatic notifications. This reduces communication delays and improves team collaboration.
HRIS integration can bring significant benefits to HR and information management in your organisation. By connecting with shiftin, you can automate your payroll process, generate detailed performance reports, and efficiently manage work and shift schedules.
Integrating HRIS with shiftin can improve efficiency, reduce costs, and strengthen HR processes in your organisation.